Instructions to submit your music for coverage
All coverage is free for artists & bands.
Submit music through email  direct at shay@thebuzzroll.com. Music not yet released, provide in the email a direct private Soundcloud link or file share.
Email a tagged (metadata) MP3 and wav files. Large files email the link to a Google docs folder that is downloadable. If you are submitting for airplay on thebuzzr podcasts please provide wav files.
Send your EPK (electronic press kit), an artist bio and details of the release coverage requested. IF YOU DO NOT HAVE A PROFESSIONAL PRESS KIT OR ALL OF THE INFORMATION PLEASE JUST SEND AN EMAIL WITH LINKS.
Information to include (if applicable):
Single Name and Release Date

Album/EP Name and Release Date (If Applicable)

Upcoming Live Performances, Festivals and Gigs (if Applicable)

Official website and social media links.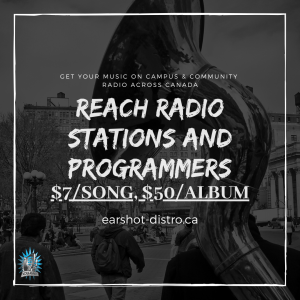 !earshot Digital Distribution
The !earshot-Distro online platform allows the Canadian music industry to upload musical recordings. Campus and community radio stations across Canada can review and download the music.
THIS IS A DIRECT ARTIST SUBMISSION FOR ARTISTS. No intermediary is required. Artists can upload new and back catalogues. Go to the link. 
Currently, 10 stations take part in the !earshot Daily show. The show is available to over 100 NCRA radio stations nationwide. !earshot Daily airs Monday through Friday. There is a different host daily. Check stations below for schedules & the daily host.
CANADIAN ARTISTS AND INTERNATIONAL ARTISTS interested in airplay on Community and College/University Campus Radio may submit their music online.
The referral code K78LNCRA when signing up, will give you 25% off your first 10 uploads and 5% off on every upload after that. We do make a small referral fee for signups. The money earned is paid towards our fees.
Check the station schedules below for Canadian stations airing !earshot Daily.
PLEASE DO NOT CONTACT DIRECTLY TO ASK FOR RADIO PLAY. THE PROCESS IS TO SUBMIT YOUR MUSIC TO THE SYSTEM. This radio opportunity notice is for information only. 
STATIONS AIRING !EARSHOT (SUBJECT TO CHANGE)